Soft and light shopping bags made of quilted fabrics, furpile or other light weight materials,  with detachable shoulder strap and front pocket closed by fur flap.
Read more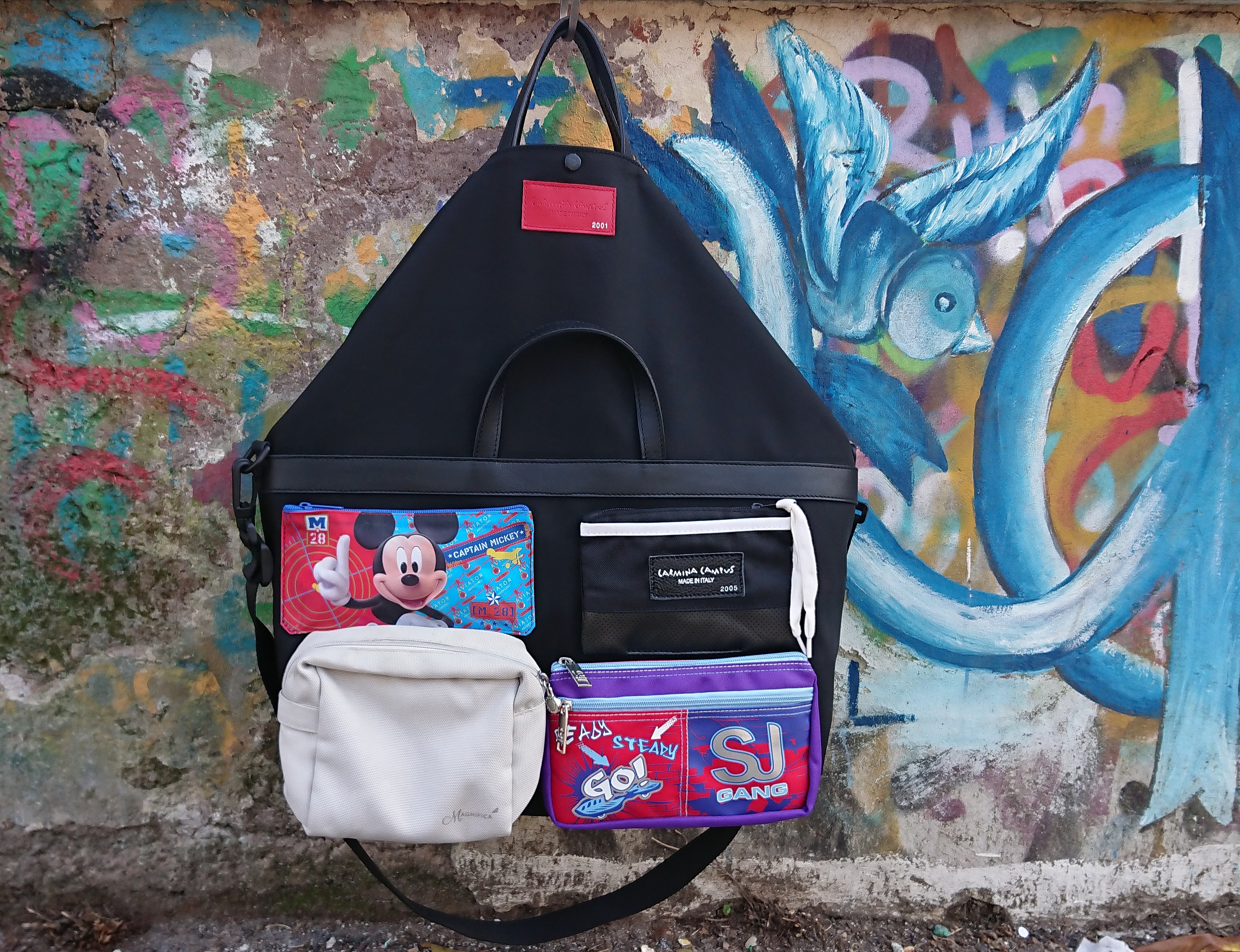 Shopping bags made of deadstock  techno fabrics with added repurposed pouches  that serve as multifunctional pockets.  Each style is one-of-a-kind, one side different from the other. They can be worn  at full length or half length (the upper part can be folded inside). 
Read more
Mix-and-match of fake and real fur. Stripes, animalier prints, nordic patterns of furpile are mixed with shaved or furry shearling to designg shopping bags, hobos, top zippered bag, messenger bags, cargo bags, travel bags.
Read more
Quilted fabrics made of cotton, nylon or other techno-materials originally designed to make jackets, coats, parkas or  the padded lining of casual-wear,  are the basic material of totes, shoppings, top zippered bags, flat clutches, travel bags.  Furpile is often matching the quilted fabrics and many styles have a special detail, a small pocket made from […]
Read more
The Anthropocene, symbolized by the image of a small caveman with a shopping trolley,  a computer screen or a mobile phone, is the special feature of flat shopping bags, square bottom totes, mini shoulderbags, small clutches/wallets/tables holders. All styles are made  of techno water-proof  fabrics mixed with velvet, pvc or leather, and joggers with black […]
Read more
A mesh effect obtanied by means of vertical laser cuttings  is the feature of a collection of messenger bags and totes made of pvc reclaimed from ad signs. One-of-a-kind because always different in shades and colors according to the prints on the ad. Enriched by a pocket made of shearling.
Read more
A mixed pattern of  leather remnants and repurposed fabrics is matching  pvc patches  with mesh like cuttings in solid colours. Front pocket closed by a leather-covered bottle top.
Read more